Midi Canal Maps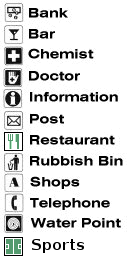 You will find many "clickable" areas on these maps. Some are marked with a green or a red circle, others, town names for example, with a green underline. Some of the locks "E" (écluse) are similarly "clickable". In each case these open additional windows with photographs and in some cases more details.
More recent additions are indicated by small red arrows "

", since they are smaller, in general they indicate the direction in which the photo was taken.

Whilst these maps have been drawn as best we can, we do not guarantee their accuracy.
E.& O.E.