Midi Canal potted History , Photographs, Maps etc.....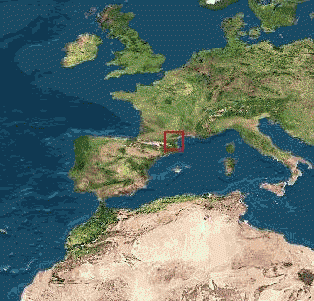 The Midi Canal, in existence for more than three centuries, three hundred and thirty-eight years, was constructed by Pierre Paul Riquet between 1667 and 1681, (first used Tuesday the 20 May 1681), with the help of about twelve thousand workers, who dug out 7,000,000m³ of earth to connect Toulouse and Sète.

This represents 240km(150miles) of canal, built using only manpower, during the reign of Louis ⅩⅣ, the Sun King, "Le Roi Soleil".

Conceived to enable the transport of goods and the French Navy between the Atlantic ocean and the Mediterranean sea, it is now almost exclusively used by pleasure boats.

During your trip you will discover a canal lined by trees, which meanders through the land of the "Cathars", passing on the way locks, bridges and aqueducts of the period.

You will come to appreciate the calm of the picturesque little villages, which have preserved their charm and gastronomy, practically intact since the canal's construction.

The Canal du Midi was recognised by UNESCO as a world heritage site in 1996. It was the genius of Pierre Paul Riquet that provided the sourcing of the water that made this project viable. There had been a number of designs (even one by Leonardo da Vinci).
P.S.: If you are staying in or near Béziers (birthplace of Pierre Paul Riquet) there are a few suggestions for excursions here.
E.& O.E.