Luxury canal & river Cruise Ship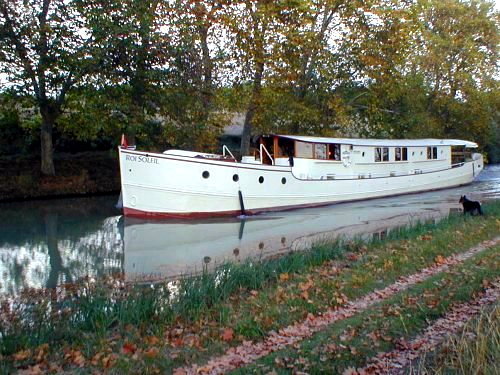 "Roi Soleil" (The Sun King, Louis XIV) cruises the southern region of Provence, the Camargue, Languedoc and the Canal du Midi.

the south-West is accessible to very few ships due to the restricted dimensions of the historic Midi Canal. Roi Soleil is the first to take you there in the comfort of two-story accommodation, and to provide the best views of this magnificent countryside in optimal comfort. your personal, bi-lingual guide and a spacious air-conditioned vehicle are available for excursions.
The magnificent Canal du Midi has remained virtually unchanged in over three centuries with its breathtaking flights of locks and stone bridges. this prodigious engineering feat, commissioned by Louis XIV finally achieved the dream of linking the Mediterranean with the Atlantic ocean. now classed on the World heritage list of conservation, the Canal du Midi encompasses untainted regions of history and beauty that reflect the vast influences of all major Mediterranean civilisations. from prehistory, through the Roman occupation, succeeded by the turbulent Middle Ages, the exceptional architecture captures the atmosphere of time revisited.

On the tree lined route between Béziers and Carcassonne, Roi Soleil will glide through the vast diversity of scenic landscapes that changes dramatically from the rugged, rural Languedoc regions to the sun-drenched, azure blues of the Mediterranean. To experience this kaleidoscope of colour and history we will take you back into the time of the Romans in the city of Narbonne - the first Roman colony outside of Italy. you will follow the crusades of the Cathares in the fortified medieval villages of Minervois and the majestic walled city of Carcassonne. and you can even go back a few centuries BC by visiting the Greco-Iberian Oppidum of Ensérune.

Within this vast region also lies a land of poetry, and of proud people devoted to the soil and of course the vine - and whose passion they will share with you in private tastings of the local Minervois and Corbières wines. At the end of the afternoon, you will experience the warmth and odour of the earth as it exhales in the shimmer of the setting sun - and in the spectacle that becomes magic, you can only end the day by dreaming and stepping back in time.

River Yacht Cruises will adapt the routes and excursions according to the special interests of the charter party, whenever possible.
E.& O.E.