Le Somail Map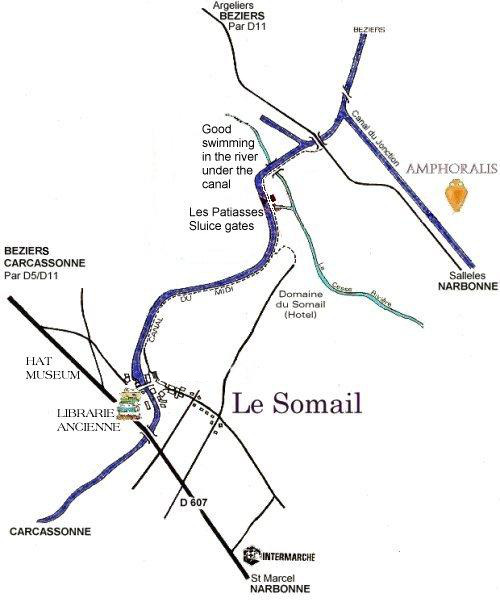 Le Somail owes its existance to the canal du midi
The times are gone when horse-drawn mail & cargo barges glided gracefully along the beautiful Midi Canal, (result of the creative genius of pierre-paul riquet,) having paused for a moment before the ice-house and the stables, and then inched their way under the bridge, they would have come alongside after the church and bustling inn. Le Somail was a port which owed its importance to passenger and goods transport.
It was the central point where all the major services crossed and linked harmoniously.

You could have found shops, warehouses: and the inn, enlivened by their overnight guests.
......but this was in the 17th & 18th centuries.
Today the charm remains, pleasure boating has replaced commercial traffic, & Le Somail has become a tourist, cultural and gastronomic refuge, thanks to the preservation of its bridge, chapel, ice-house and inns. The beauty and calm of this peaceful corner of our midi offers you the opportunity to discover the pleasures of an artist's workshop, a unique hat museum, a bookshop containing and often rare volumes and an antique shop. In the canalside restaurants you can taste the fruits of our agricultural neighbours and sample the great wines of our Minervois.
In the port you will find a guest house and a boat hire base which will permit you to view our beautiful surroundings from one of their cruisers.
Don't forget the walks along shady canal banks.
Discover Le Somail ... sample it ... you won't forget it
E.& O.E.